Rail News Home
BNSF Railway
11/10/2020
Rail News: BNSF Railway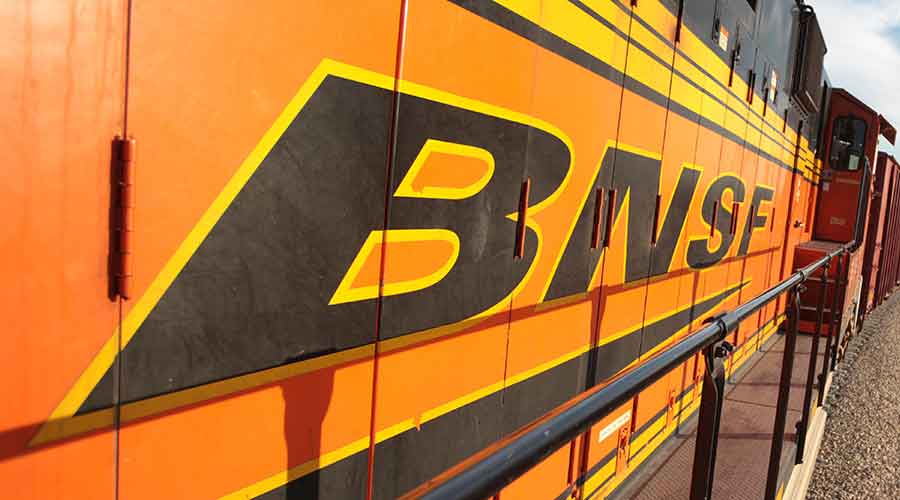 BNSF Railway Co.
's third-quarter 2020 total revenue fell 14% to $5 billion and operating income dipped 8% to $2 billion compared with revenue and operating income during the same quarter in 2019. The Class I attributed the decreases primarily to an 8% drop in unit volume due primarily to the COVID-19 pandemic, BNSF officials reported yesterday in a press release. "Volumes sequentially improved from earlier periods, but continued to be impacted in the third quarter," they said. Additionally, average revenue per car/unit declined 6% during the quarter. Other factors that affected BNSF's third-quarter bottom line included the following:
• Consumer products volumes rose 1%. Increased retail sales and inventory replenishment by retailers, along with higher e-commerce activity, offset earlier declines and resulting in higher domestic intermodal volumes.
• Industrial products volumes dropped 23%, due primarily to a decline in U.S. industrial production driven by the pandemic and reduced demand in the energy sector, which drove lower sand and petroleum products.
• Agricultural products volumes rose 4% in the quarter. Higher grain and meal exports were substantially offset by the pandemic's impact on volume, primarily ethanol and sweeteners, along with lower soybean exports.
• Coal volumes plummeted 25%. The Class I posted Q3 operating expenses of $3.2 million, down 18%, and net income of $1.3 billion, down 8%. The railroad logged an operating ratio of 59.7%, down from 62.6% in Q3 2019. BNSF officials attributed the decrease in expenses to lower volume-related costs, productivity improvements and the effects of cost control initiatives. Meanwhile, BNSF has issued its corporate sustainability report, which focuses on the Class I's accomplishments during the 2018 and 2019 calendar years. The report can be read
here
. 
Contact Progressive Railroading editorial staff.
More News from 11/10/2020
Copyright
© © Trade Press Media Group, Inc.