Rail News Home
Canadian Pacific
12/28/2022
Rail News: Canadian Pacific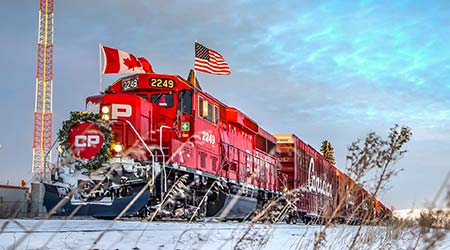 This year, Canadian Pacific collected 121,000 pounds of food and CA$1.3 million for local food banks. Photo – cpr.ca
The Canadian Pacific Holiday Train raised CA$1.3 million and collected 121,000 pounds of food for local food banks.
Since the program's inaugural start in 1999, the Holiday Train has raised more than CA$22.4 million and collected 5.15 million pounds of food, CP officials said in a press release. The train returned to the rails this year after going on hiatus in 2020 and 2021 because of the pandemic.
...
Copyright
© © Trade Press Media Group, Inc.