Rail News Home
Norfolk Southern Railway
8/10/2021
Rail News: Norfolk Southern Railway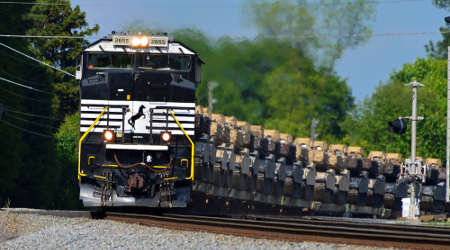 Norfolk Southern Corp.
yesterday released its 14th annual corporate responsibility report, which now is named the
environmental, social and governance (ESG) report
to better reflect the company's holistic commitment to sustainability. The Class I ramped up its sustainability efforts in 2020, in part by becoming the first major North American railroad to issue green bonds — which totaled $500 million — and establishing a science-based target for a 42% reduction in greenhouse-gas emissions intensity that's consistent with the Paris Agreement on climate change, NS officials said in a press release. "At Norfolk Southern, sustainability is in our DNA — a part of everything we do as a company. From environmental stewardship to the safety and development of our entire team, we are in the business of a better planet, committed to bold leadership and deliberate action," said NS Chairman, President and Chief Executive Officer James Squires. Some of the the milestones listed in the ESG report include: • spending $166 million with diverse suppliers; • making $13.1 million in total corporate contributions across the company's 22 state footprint; • nearly doubling renewable energy usage to 18% in deregulated markets as of May 1, 2021, and establishing a new goal of using 30% clean energy by 2030; • diverting 81% of waste from landfills; • recycling 100% of old wood ties and more than 90% of steel ties; • recycling all 400 miles of rail replaced each year; and • reclaiming more than 6,200 tons of used oil. For more information about NS' sustainability efforts, read this
cover story
in Progressive Railroading's August issue.
Copyright
© © Trade Press Media Group, Inc.