Rail News Home
Union Pacific Railroad
11/3/2022
Rail News: Union Pacific Railroad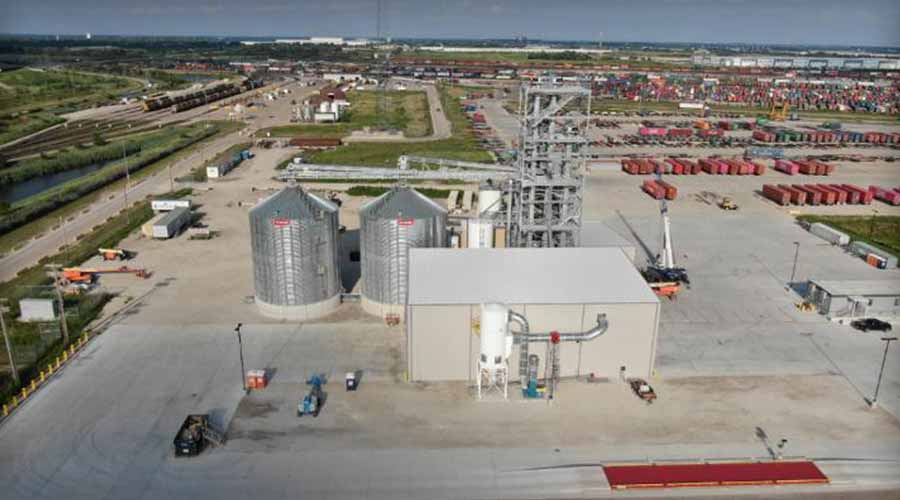 The Joilet terminal initially will be used to transload soybeans and distiller's dried grains. Photo – Union Pacific Railroad
Union Pacific Railroad late last month announced a new grain transload facility at its Global 4 intermodal terminal in Joliet, Illinois, now is open.
UP officials believe the state-of-the-art facility will help reduce supply-chain costs for agricultural producers and processors. The transload terninal is managed by JCT, a 50/50 joint venture between Consolidated Grain and Barge Co. and Gavilon Grain LLC.
Regional producers and processors can transport their grain products by truck to Global 4, where the cargo will be transloaded into containers for shipment by rail to West Coast ports for export to overseas markets.
The facility initially will be used to transload soybeans and distiller's dried grains. The number of commodities the terminal can handle will be expanded at a future date, including cleaned beans, UP officials say.
The terminal is operational in time for Midwest agricultural producers to utilize for this grain harvest season, said UP Executive Vice President of Marketing & Sales Kenny Rocker in a "Status of the Railroad" letter to customers dated Oct. 27.
"This new facility offers greater access to containers for exporters and faster container turnaround times for ocean carriers — a win-win solution for both our agricultural and ocean carrier customers," he wrote.