Amtrak has unveiled a $50 million plan to renovate and expand the intercity and commuter-rail concourse at Union Station in Washington, D.C.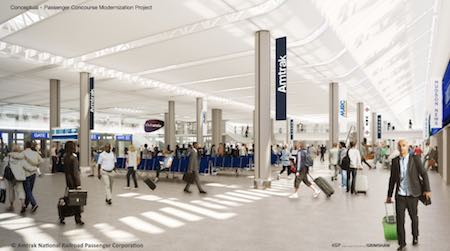 A rendering of the renovated concourse at D.C.'s Union Station.
(Click to view larger.)
Source: Amtrak
The project would add approximately 20,000 square feet of passenger space, nearly doubling the concourse's current capacity, Amtrak officials announced Tuesday in a press release.
Design is underway to upgrade passenger amenities, including new restrooms, boarding gates and seating. In addition, the design will incorporate new architectural features and natural light elements, resulting in a "vastly reconfigured, modernized and unified concourse," Amtrak officials said.
The renovated concourse is aimed at improving accessibility, circulation, way-finding and multimodal connectivity.
The project marks the first set of improvements being undertaken as part of Washington Union Station's "2nd Century" plan, a comprehensive initiative comprising multiple projects.
Amtrak is working with the Union Station Redevelopment Corp., the Federal Railroad Administration and private real estate developer Akridge on that larger project, which seeks to triple passenger capacity and double train capacity over the next two decades.
Advancing the concourse renovation is a milestone for the 2nd Century plan, said Stephen Gardner, Amtrak's executive vice president of Northeast Corridor business development.
"This work and other planned improvements will transform Union Station's capacity and performance, befitting the vital regional gateway and civic hub the station has become since its redevelopment in 1988," Gardner said.
In addition, the Washington Metropolitan Area Transit Authority (WMATA) plans to add a new Metrorail staircase and First Street entrance, which will "bring a consolidated set of passenger improvements to the western portion of the concourse," Amtrak officials said. Union Station is WMATA's busiest rail station.
Early construction for Amtrak's concourse modernization project will start this spring and include heating and ventilation unit relocation. Phased construction is expected to start next year.
Union Station is a hub for Amtrak, Virginia Railway Express and Maryland Area Regional Commuter (MARC) trains. The existing station is currently operating beyond its capacity.
Keywords
Browse articles on Amtrak , Washington Union Station , Washington D.C. , D.C. Union Station , Stephen Gardner , Union Station Redevelopment Corp. , Federal Railroad Administration , Akridge , concourse renovation on Progressive Railroading