Rail News Home
CSX Transportation
10/12/2020
Rail News: CSX Transportation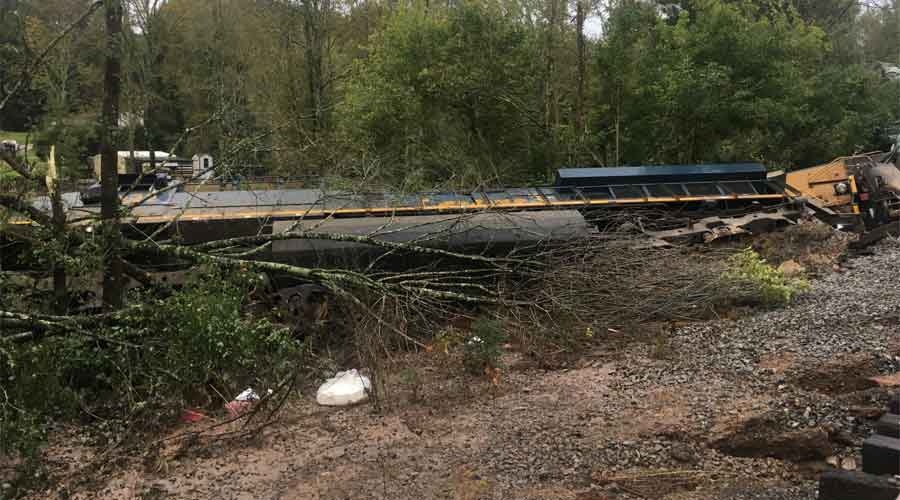 Firefighters responded at to a 911 call indicating the train had derailed, was on its side and was taking on water.Photo – Gwinnett County Fire and Emergency Services, Facebook
Following heavy rains stemming from Hurricane Delta, a CSX train derailed yesterday, causing a fire and hazmat situation outside Atlanta.
Two CSX employees were transported to a local hospital with minor injuries, according to a statement from Gwinnett County Fire and Emergency Services. 
Firefighters responded at 1:43 a.m. to a 911 call indicating the train had derailed, was on its side and was taking on water. When firefighters arrived, they found the two railroad employees trying to get out of the locomotive. About 38 rail cars derailed. Several of the cars were engulfed in flames. 
The Gwinnett County Hazardous Materials Response Team implemented spill control measures, which were made more difficult due to a swollen creek. Because the fire involved hazardous materials, emergency response officials ordered an evacuation of the area closest to the fire.
The fire was substantially subsided after about two hours. CSX representatives arrived on the scene quickly and are working with environmental cleanup companies to minimize the impact to the environment, Gwinnett County officials said.
Contact Progressive Railroading editorial staff.
More News from 10/12/2020