12/6/2016    
Rail News: Security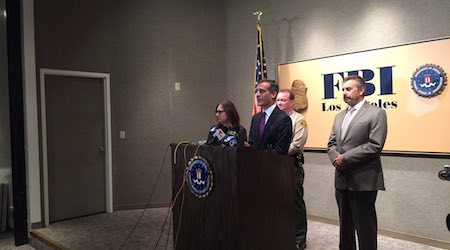 L.A. Mayor Eric Garcetti (at podium) and FBI staff yesterday held a press conference discussing the threat.Photo – Garcetti's Twitter account
The Los Angeles County Metropolitan Transportation Authority (Metro) has beefed up security across its system in the wake of a bomb threat the agency received yesterday.
The threat warned of a possible attack at the Red Line subway's Universal Station in Studio City, Calif.
Metro's security team is working with the FBI, the Los Angeles County Sheriff's Department and the Los Angeles Police Department to mitigate the threat, which is being "investigated for validity," agency officials said in a press release.
In the meantime, Metro is taking several precautions, including increasing law enforcement presence across its entire system.
"At this point, we don't know if this is a credible threat, but the safety of our passengers, employees and the public is our number one priority, so we take this threat very seriously," said Metro Chief Executive Officer Phillip Washington.
Keywords
Browse articles on