Rail News Home
Norfolk Southern Railway
7/22/2022
Rail News: Norfolk Southern Railway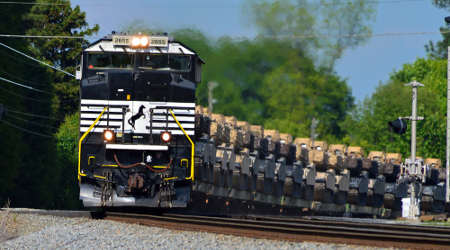 Conductor trainees at priority locations on the NS network can earn up to $5,000 in starting bonuses. Photo – nscorp.com
Norfolk Southern Railway is increasing conductor trainee pay to $25 per hour, with a minimum of $200 in earnings per shift, the Class I announced yesterday.
Additionally, conductor trainees are eligible for an on-the-job training incentive of $300 per bi-weekly pay period, provided they make themselves available to work, NS officials said in a press release.
Conductor trainees at priority locations on the NS network can earn up to $5,000 in starting bonuses, while trainees at the Class I's other locations can earn up to $2,500 in starting bonuses. Priority locations include Bellevue and Cincinnati, Ohio; Binghamton, New York; Conway and Harrisburg, Pennsylvania; Decatur, Illinois; Elkhart, Fort Wayne, Peru and Princeton, Indiana; Louisville, Kentucky; and Roanoke, Virginia.
"We are committed to ensuring our newest team members are well-compensated while they work toward qualifying as conductors," said Brad Dodd, NS' director of talent acquisition.
The Class I's latest recruitment incentives are indicative of a tight labor market in rail, particularly when it comes to train crew members, NS officials said. NS and other Class Is are seeking to ramp up the size of their train crews to help improve rail service.