Rail News Home
Norfolk Southern Railway
7/22/2021
Rail News: Norfolk Southern Railway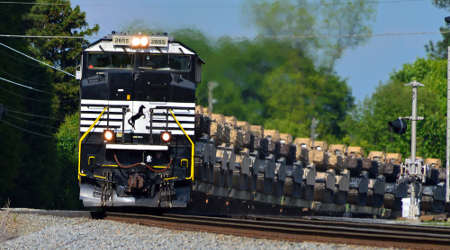 NS has reconfigured its Landers footprint to increase stacked container capacity by 60%. Photo – nscorp.com
In the wake of recent record demand, Norfolk Southern Railway is making several changes and upgrades at its Landers intermodal terminal in Chicago, the Class I announced in a customer advisory.
To increase capacity, NS has reconfigured its footprint to boost stacked container capacity by 60%. Reach-stackers — with three in service and three more coming — are being added to increase lift capacity by 40% an hour and reduce driver dwell for pickups, the NS advisory stated.
NS also has reconfigured lot space after receiving feedback from the drayage community. The Class I's secondary non wide-span crane stack has been subdivided into 10 stacks in order to lessen container handling and ease of location to reduce driver dwell.
Landers remains open 24/7, but the railroad encouraged drivers to "take advantage of off-peak hours."
"With record demand expected to continue, and further growth in the pipeline, NS is taking action to increase capacity and improve efficiency at Landers for customers and their drayage partners," the advisory stated.