Rail News Home
Norfolk Southern Railway
4/18/2022
Rail News: Norfolk Southern Railway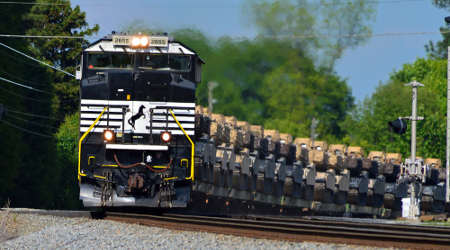 NS conductors are guaranteed minimum annual pay of $52,000 with benefits. Photo – nscorp.com
Norfolk Southern Railway is expanding its conductor trainee incentive program to Bellevue, Ohio; Elkhart, Indiana; and Fort Wayne, Indiana.
The program includes starting bonuses of $5,000.
NS conductors are guaranteed minimum annual pay of $52,000 with benefits including the Railroad Retirement System and a 401(k) savings option, NS officials said in a press release. Guaranteed minimum earnings increase to $63,500 over four years of service, but with additional work opportunities, most conductors earn far more than the guaranteed minimum, NS officials added.
The job can entail coupling rail cars to build trains, delivering rail cars to local customers and transporting trains hundreds of miles across the Class I's freight network. The 10-to-13-week training program includes classroom and field training. The first two weeks are conducted at the Norfolk Southern Training Center in McDonough, Georgia; the remaining weeks take place at or near the trainee's hiring location.
Applicants must be 18 years of age and successfully complete a background check.
Other locations offering the starting bonuses include Binghamton, New York; Birmingham, Alabama; Buffalo, New York; Chattanooga, Tennessee; Cincinnati, Ohio; Conway, Pennsylvania; Harrisburg, Pennsylvania; Linwood, North Carolina; Louisville, Kentucky; Manassas, Virginia; Roanoke, Virginia; and Sheffield, Alabama.