Rail News Home
Norfolk Southern Railway
3/14/2022
Rail News: Norfolk Southern Railway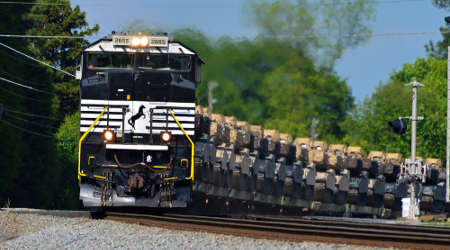 The new calculator enhances the accuracy of carbon estimates by capturing the entire cycle of fuel usage. Photo – nscorp.com
Norfolk Southern Railway today announced the launch of a next-generation carbon calculator for customers to measure carbon emissions in their supply chain decisions.
The calculator enhances the accuracy of carbon estimates by capturing the entire cycle of fuel usage, NS officials said in a press release. Direct fuel consumption from locomotives is applied to every rail car based on weight and distance traveled, and additional fuel accounted for includes yard and local operations, equipment repositioning and fuel expended while handling containers in intermodal operations. The tool generates a rail fuel efficiency factor for 18 rail-car types and 30 commodities.
The calculator was designed with the entire transportation industry in mind, officials said. It provides data on estimated and avoided emissions, carbon dollars saved, highway miles avoided and trucks and cars taken off the road.
NS was the first entity in the rail industry to create a carbon calculator in 2008.
"More than 25% of our customers have set public targets for emission reductions, and our new calculator provides a level of assurance that customers need to both measure and manage supply chain emissions," said NS Chief Sustainability Officer Josh Raglin. "This tool provides our current and future customers with the data to understand the sustainable advantages of shipping via rail."