NS report highlights projects funded by green bonds
Rail News Home
Norfolk Southern Railway
5/12/2022
Rail News: Norfolk Southern Railway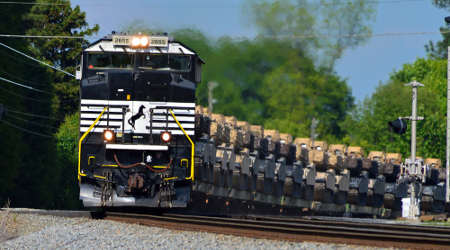 NS was the first Class I to issue green bonds. Photo – nscorp.com
Norfolk Southern Corp. yesterday reported on projects funded by $500 million in green bonds the company issued in 2021.
NS was the first Class I to issue green bonds. The company allocated $496 million in net proceeds from its green bonds to fund eligible projects as defined under the NS Green Financing Framework.
The allocated funds and projects included:
• $275.6 million to fund DC-to-AC locomotive power conversions that modernize an existing locomotive and avoid about 200 tons of total carbon emissions versus producing a new AC locomotive;
• $99.5 million in intermodal facility improvements that will further support efforts to shift millions of tons of freight onto the railroad to decongest highways;
• $10.9 million to further locomotive fuel management initiatives that will support NS' science-based target to reduce carbon emissions intensity by 42% by 2034; and
• $3.4 million to build on the company's nature-based solutions that restore and protect vital stream and wetland ecosystems.
"From improved fuel efficiency of our locomotive fleet to ecological projects that restore natural landscapes, we believe these funds are driving a sustainable future and long-term value for all our stakeholders," said Chief Sustainability Officer Josh Raglin in a press release.
Copyright
© © Trade Press Media Group, Inc.