The derailment of a CSX crude-oil train two years ago in Lynchburg, Va., was likely the result of a broken rail caused by a reverse detail fracture with evidence of rolling contact fatigue, the National Transportation Safety Board (NTSB) concluded in its accident report issued yesterday.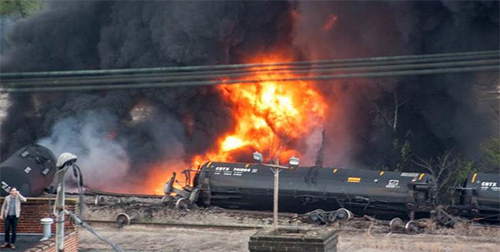 The CSX oil train derailed in April 2014.
NTSB
The train derailed April 30, 2014, sending three of the 17 derailed cars into the James River. One car was breached and released 29,868 gallons of crude oil into the river, some of which caught fire, according to the report.
The train, which contained 104 tank cars loaded with Bakken crude oil, was traveling eastbound on the CSX James River Subdivision when the derailment occurred. No one was injured, although the incident caused $1.2 million in property damage, not including the costs of environmental cleanup.
The report said the defective rail had been discovered the day before the incident and had been scheduled for repair for the day after.
CSX is evaluating the NTSB report to learn how to prevent future incidents, The Roanoke Times reported yesterday, citing CSX spokesman Rob Doolittle.
"Though CSX's rail replacement protocols exceeded federal regulations at the time of the Lynchburg derailment, we have since implemented further enhancements to reduce the time limit for replacing rail on key crude oil routes following the detection of a defect, to within 24 hours," said Doolittle, according to the newspaper.
Meanwhile, a Norfolk Southern Railway train derailed 15 cars Tuesday on the mainline near Ripley, N.Y., NS said in a shipping news alert.
The train was transporting hazardous liquids, but the incident resulted in no fire or injuries. The derailment led to the evacuation of at least 50 homes in the area, according to local media reports.
Two ethanol tank cars that had been leaking were removed from the scene, according to the Federal Railroad Administration's Twitter account. The train consisted of 33 cars. Of those that derailed, two cars contained ethanol and one contained propane.
Keywords
Browse articles on National Transportation Safety Board , CSX on Progressive Railroading