Rail News Home
Passenger Rail
10/30/2018
Rail News: Passenger Rail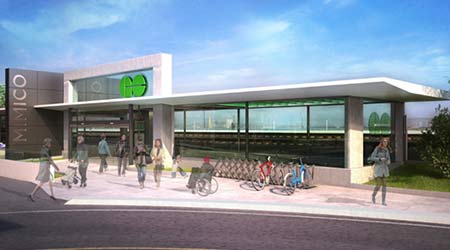 A rendering of the revamped Mimico Station.Photo – Metrolinx
Province of Ontario officials last week announced they are advancing a public-private partnership (PPP) to modernize GO Transit's Mimico Station in Toronto's Etobicoke district.
The province signed a letter of intent with Vandyk Group of Cos. to help develop the project. GO Transit's owner Metrolinx and the Vandyk Group will negotiate the construction of the redeveloped station.
The PPP project will optimize the use of government-owned land and increase ridership by establishing new development along an existing transit line, province officials said in a press release.
Part of Metrolinx's GO Expansion program, the project calls for building a new accessible station building, constructing pedestrian tunnels and elevators, refurbishing platforms, and establishing new station entrances and below-grade parking.
In exchange for the right to develop land above Mimico Station, the Vandyk Group will pay all construction costs for the main station building, new parking and greenway. Allowing developers to access land above stations in exchange for constructing new station facilities helps create mixed-use communities at those locations, province and Metrolinx officials said.
"Bringing a new station into a community at little or no cost to the taxpayer is something that has great potential. It also makes good business sense," said Metrolinx President and Chief Executive Officer Phil Verster. "Metrolinx continues to be open to innovative, joint approaches with the private sector that reduce the cost to taxpayers and also provide efficient, safe and affordable transportation options."
Contact Progressive Railroading editorial staff.
More News from 10/30/2018