Rail News Home
Passenger Rail
6/26/2020
Rail News: Passenger Rail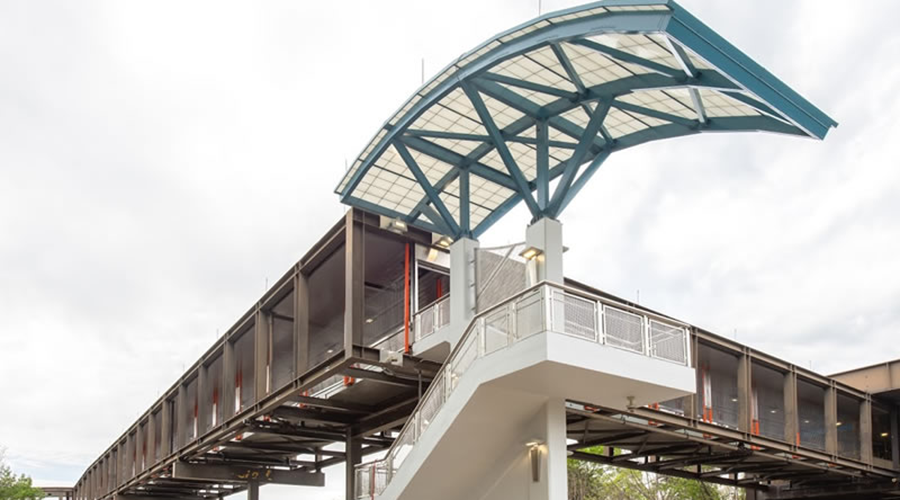 Most of the station upgrade project focused on rehabilitating the pedestrian bridge linking the Inman Park and Reynoldstown neighborhoods to the rail station.Photo – MARTA
The Metropolitan Atlanta Rapid Transit Authority (MARTA) has completed  $6.9 million in safety and aesthetic upgrades to the Inman Park/Reynoldstown rail station on the system's East/West Line.   
New safety features include an accessibility ramp connecting Walthall Street to the Reynoldstown bus loop and a stair tower to Seaboard Avenue on the south side of the station. MARTA crews also rehabilitated two pedestrian bridges linking the station to parking lots, and built a speed table to slow vehicle traffic.  
"This was the first major project to be funded by the More MARTA, now MARTA 2040, half-penny sales tax, and its successful completion provides great momentum as we undertake other rail station rehabilitation and transformation projects as part of our capital improvement program," said MARTA General Manager and Chief Executive Officer Jeffrey Parker in a press release.
Most of the project focused on rehabilitating the decades-old pedestrian bridge linking the Inman Park and Reynoldstown neighborhoods to the rail station.
MARTA crews removed the deteriorated structural slab and walking surface on the north and south sides and retrofitted the bridge with reinforced decking to help reduce vibrations from MARTA and CSX tracks. 
The walkway ceiling, railings, and decorative metal screens were replaced, and the entire structure was painted. Safety upgrades include a new fire protection system, security cameras and LED lighting.   
Contact Progressive Railroading editorial staff.
More News from 6/26/2020