Rail News Home
Federal Legislation & Regulation
4/22/2019
Rail News: Federal Legislation & Regulation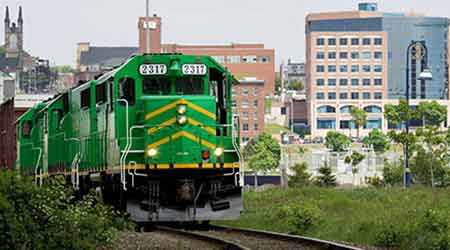 The violations occurred between November 2012 and July 2013.Photo – nbsouthern.com
The New Brunswick Southern Railway Co. (NBSR) has been fined CA$10,000 and required to pay CA$40,000 to implement safety research programs for two counts of violating Canada's Transportation of Dangerous Goods Act.
NBSR was charged in 2017 after an investigation revealed it did not comply with all applicable safety requirements by transporting dangerous goods that were not accompanied by the required documentation, according to a Transport Canada press release.
Additionally, the Saint John Provincial Court in New Brunswick found that the company failed to adequately train employees in the transportation of dangerous goods.
The violations occurred between November 2012 and July 2013, when the railroad used 6,853 rail cars that transported residue of petroleum crude oil for Irving Oil Commercial GP.
Transport Canada charged NBSR with 24 counts of violating the act; the railroad pleaded guilty to two of the charges.
After the investigation began in 2014, NBSR took corrective measures and provided dangerous goods training to employees, Transport Canada officials said.
Contact Progressive Railroading editorial staff.
More News from 4/22/2019