Rail News Home
Passenger Rail
4/29/2019
Rail News: Passenger Rail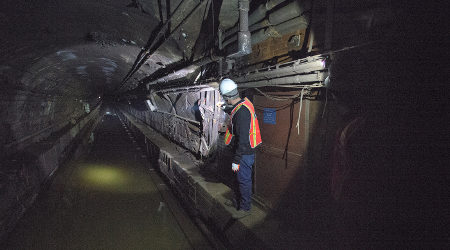 The 1.5-mile-long tunnel was damaged by Superstorm Sandy in 2012.Photo – MTA
The next phase of MTA New York City Transit's (NYCT) L project began late last week as planned, the Metropolitan Transportation Authority (MTA) announced. The work involves the reconstruction of the Canarsie Tunnel on the L Line.
An improved construction plan will avoid a complete tunnel shutdown, with regular weekday and peak hour service maintained for 90 percent of the line's riders, and weekday and peak-hour service unchanged, MTA officials said in a press release. Total demolition of a concrete structure has been reduced by 99 percent in the new plan, and alternate subway and bus services will be offered throughout the construction process, they said.
NYCT previously planned to close the entire century-old tunnel — which is 1.5 miles long and runs under the East River — to demolish and reconstruct infrastructure that had been badly damaged by Hurricane Sandy in 2012. The current plan employs new construction methods and technologies that have been used effectively in transit systems around the world and in several industries, but not integrated in a similar project in the United States, MTA officials said.
The plan involves keeping the tunnel open throughout construction and securing the concrete structure with heavy-duty fiber-reinforced polymer used to carry heavy loads on bridges. In addition, fiber optic-based "smart sensor" systems will be installed to continuously monitor the structure's integrity.
The L Project began in July 2017. Much of the project's elements are underway, including capacity and accessibility improvements at 14 subway stations, track maintenance on nearby subway lines and the construction of three new power substations. The new phase of the project is expected to take 15 to 18 months to complete.
Contact Progressive Railroading editorial staff.
More News from 4/29/2019