Rail News Home
Rail Industry Trends
7/31/2020
Rail News: Rail Industry Trends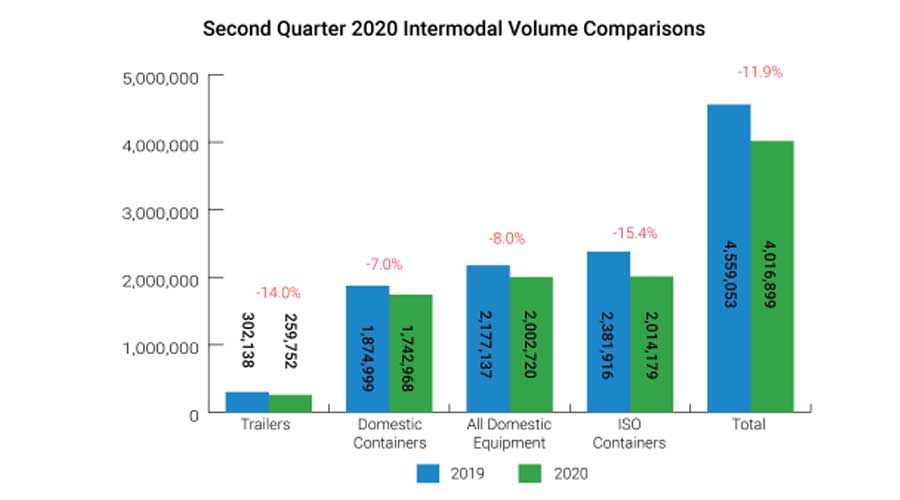 Second-quarter intermodal volumes reflected the full impact of the COVID-19 pandemic, IANA officials said.Photo – IANA
Second-quarter 2020 intermodal volumes dropped 11.9 percent to 4,016,899 units compared with the same period a year ago, according to the Intermodal Association of North America's (IANA) Intermodal Quarterly report.
Year over year, international intermodal volume fell 15.4 percent to 2,014,179 containers, while domestic volume declined 7 percent to 1,742,968 containers. Trailers decreased 14 percent to 259,752 units.
"Second-quarter results showed the full impact of the economic downturn attributed to COVID-19," said IANA President and Chief Executive Officer Joni Casey in a press release. "We anticipate that the Q2 drop-off should be a floor going forward."
The seven highest-density trade corridors, which collectively handled more than 60 percent of total volume, were all down during the quarter. The Midwest-Northwest and Intra-Southeast, at 19.1 percent and 17.6 percent, respectfully, topped the losses. The Southcentral-Southwest came in at 14.6 percent; Southeast-Southwest, 11.6 percent; and the Northeast-Midwest, 10.3 percent.
Two corridors fell less than 10 percent: The Trans-Canada declined 9.7 percent, and the Midwest-Southwest dropped 7.3 percent.
Contact Progressive Railroading editorial staff.
More News from 7/31/2020