Rail News Home
Security
4/30/2019
Rail News: Security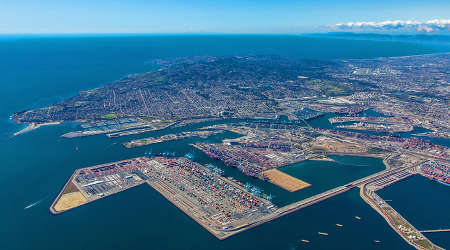 Port officials convened a stakeholder working group to discuss closer collaboration against potential cybersecurity threats.Photo – portoflosangeles.org
Port of Los Angeles officials last week proposed the creation of a "cyber resilience center" with port stakeholders, including railroads.
Port officials convened a stakeholder working group — including representatives from railroads, ship lines, marine terminal operators, trucking companies and labor unions — to discuss closer collaboration to address potential cybersecurity threats.
"In partnership with our maritime industry stakeholders, we have the opportunity to enhance the ability of the port ecosystem to see cyber threats on the horizon and improve information sharing to help manage respective, and collective, cyber risk," said Gene Seroka, the port's executive director.
The proposed center would share cyber threat information across companies within the port complex to help prepare against myriad cyber risks that could affect the cargo supply chain.
"Over the past few years, we have seen how cyber incidents have impacted some ports across the world, threatening the operations of the entire maritime supply chain," said Tom Gazsi, deputy executive director and chief of public safety and emergency management. "That's why we're taking a collaborative approach to strengthen our cybersecurity posture."
Contact Progressive Railroading editorial staff.
More News from 4/30/2019