Rail News Home
Railroading Supplier Spotlight
6/26/2020
Rail News: Railroading Supplier Spotlight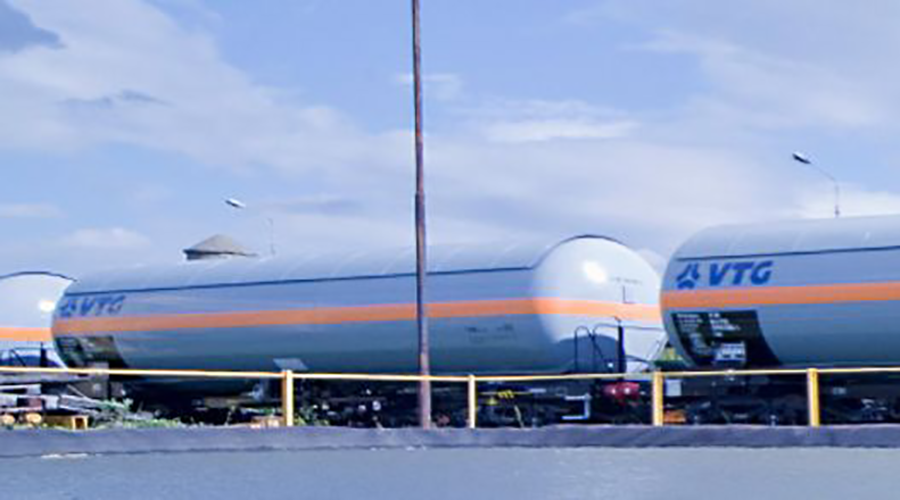 VTG Rail Logistics completed modernization of its tank car fleet to transport liquefied petroleum gas.Photo – VTG
VTG Rail Logistics has modernized its tank car fleet to transport liquefied petroleum gas (LPG). The company has been renewing its fleet since 2014, with 800 of the nearly 1500 tank cars having been retrofitted or replaced, VTG Rail officials said in a press release. The wagons now can carry a larger payload and feature quieter braking systems and crash buffers. Most wagons are also equipped with the VTG Connector telematics module, which allows tracking and tracing. 
Hardesty & Hanover LLP hired Howard Swanson and Earl Wacker as senior project managers in the rail practice. Swanson will focus on managing large freight-rail projects. He has 32 years of experience with Norfolk Southern Railway, where he was responsible for ensuring that standard procedures for bridge management complied with Federal Railway Administration requirements. Wacker will focus on passenger- and freight-rail projects in his new position. He will be involved in transportation projects in the Midwest. Wacker has more than 37 years of experience at CSX and its predecessor railroads, where he served in operations, administration and service design and six years with CSX Intermodal.
SightLogix named Michael Chaffee the western region director of sales. He is responsible for growing SightLogix's smart thermal camera solutions throughout the western United States. Chaffee has 20 years of sales and leadership experience with high-end thermal perimeter systems. 
Strukton Rail Chief Executive Officer Jacob Zeeman was elected to the Unife Presiding Board, succeeding Aike Schoots. Unife is an industry organization representing 400,000 employees in the European rail industry. "Working together on a European level is essential," Zeema said in a press release. "We must join forces to make sure that rail transport will be a key pillar in building a more resilient and sustainable Europe." 
Cambridge Systematics (CS) hired Satyen Patel as national asset management lead and Dalia Leven as national planning lead in the company's transit and shared mobility practice. Previously, Patel served as the Massachusetts Bay Transportation Authority's program manager and director of asset management. Leven has 14 years of experience helping transportation agencies plan for future mobility. Most recently she worked for AECOM. She is known for scenario planning and forecasting related to emerging technologies, CS officials said in a press release.
Contact Progressive Railroading editorial staff.
More News from 6/26/2020