ARINC RailwayNet is designed to deliver a secure, tailored PTC messaging solution that reduces the need to hire and train new personnel.Photo – Collins Aerospace
By Julie Sneider, Senior Associate Editor
Collins Aerospace
Collins Aerospace has developed a node on the Class I interoperable train control (ITC) federated network designed to allow seamless communications from the back office to the locomotive and between operations. Utilizing VHF, cellular, Wi-Fi and MPLS, ARINC RailwayNet can deliver a mandate-compliant, secure, tailored PTC messaging solution that reduces the need to hire and train new personnel, according to company officials in an email.
ARINC RailwayNet is built on Collins Aerospace's mission-critical communications infrastructure that's trusted by the global aviation industry, they said.
The complexity of PTC requirements make it paramount for short lines and commuter railroads to choose a reliable, secure and cost-effective solution that supports seamless messaging interoperability, Collins Aerospace officials say. Leveraging the company's integrated rail control centers, information management and network solutions to deliver an end-to-end solution, ARINC RailwayNet is designed to enable full back-office and inter-office messaging, security, data and configuration management, as well as monitoring, diagnostics and notifications.
ARINC RailwayNet is staffed with engineers experienced in PTC component development and system level testing who understand the criticality of proven configuration and software management processes, according to the company. They aim to support clients from design and testing to implementation, training and maintenance.
As a shared network solution, ARINC RailwayNet provides short lines and commuter railroads with connectivity to Class Is through a node developed specifically for PTC on the ITC federated network, company officials said.
Dayton T. Brown Inc.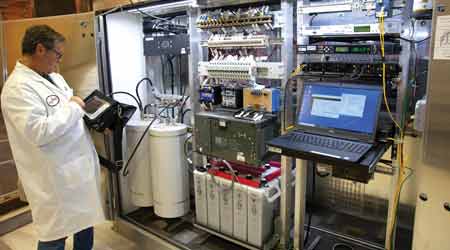 DTB's laboratory aims to support current and future needs of the Northeast Corridor collaboration team and railroad industry.
Dayton T. Brown Inc.
Dayton T. Brown Inc. (DTB) provides dynamic, environmental, EMI/EMC and structural testing. The company has more than 65 years of experience, which includes a staff of engineers skilled in qualification testing for government, military, aerospace, commercial, automotive and residential customers.
DTB applies its testing and engineering evaluation experience to meet railroads' and suppliers' PTC objectives and deadlines, company officials said in an email.
DTB's laboratory aims to support current and future needs of the Northeast Corridor collaboration team and railroad industry. The company provides verification and testing for PTC radios and subsystems, and offers full environmental qualification testing in accordance with transit authorities, as well as American Railway Engineering and Maintenance-of-Way Association, Association of American Railroads and tailored procedures.
As an independent testing laboratory, DTB has "extensive experience" qualifying radios, trackside, wayside and carborne equipment. DTB can customize a "unique testing profile" to verify the quality of clients' products, said company officials.
Digi International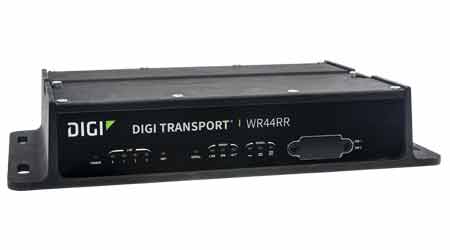 Shown: The Digi TransPort WR44RR, a cellular router for rail systems.
Digi International
When looking for connectivity infrastructure for PTC, Digi International offers customers the Digi TransPort® WR44RR, a cellular router for rail systems. The rugged, enterprise-class cellular router offers rail industry certification, versatility, security features and performance, Digi officials said in an email.
The unit — which provides a high-speed cellular network connection — features a flexible communications design with 3G/4G multi-carrier cellular, plus integrated Wi-Fi, access point or client, serial port and four-port ethernet.
It also features full onboard train certifications, including AAR S-9401 and EN50155. Communications interfaces include hardened connectors, specifically M12 for Ethernet and serial, as well as TNC connectors for antennas.
Digi management solutions provide easy setup, configuration and maintenance of large installations of remote devices, according to the company. Digi Remote Manager® offers web-based device management for remote Digi cellular routers, gateways and third-party devices.
According to the company, the Digi TransPort WR44RR cellular router's benefits include:
• security to ensure data integrity and protect against misuse and attack;
• router management to support large fleets;
• performance to maintain the fastest connections with the highest availability;
• versatility to accommodate many types of IP systems and devices; and
• agility to support multiple carrier networks and future wireless standards.
Herzog Railroad Services Inc.
Many railroads — especially short lines — still face significant challenges with the PTC implementation mandate. The costs associated with back-office services, ongoing support and support staffing are considerable obstacles for railroads to overcome. To ease those burdens, Herzog Railroad Services Inc. has developed a suite of PTC-related services and software solutions — including PTC Hosting, the company's most featured offering — for freight and commuter railroads nationwide, company officials said in an email.
The goal of Herzog's PTC Hosting solution is to offer railroads a more economical option that accelerates and simplifies PTC deployment, they said. PTC Hosting integrates qualified personnel, specialized systems, PTC software and commercial circuit architecture, and centralizes PTC into a more simplified service offering. By off-loading such complicated responsibilities to Herzog, upfront capital investments and implementation timelines are reduced, Herzog officials said. Clients then can continue their focus on daily operations.
The PTC Hosting service is supported by a 24/7 systems operations center staffed with PTC professionals. The service is interoperable, reliable and secure, Herzog officials said. Configuration management and version control are integrated into the PTC hosting process across all systems.
Herzog's integrated portfolio of construction, operation, and maintenance work also includes complementary PTC services, such as wayside and signal construction, ROW survey and data management, and the development of custom railroad software applications.
PS Technology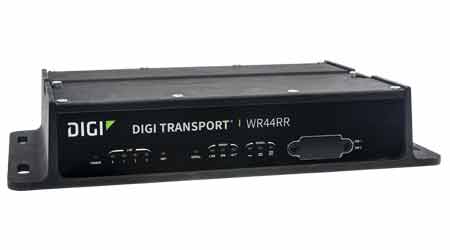 PS Technology's PTC Prime enables engineers and conductors to train at their convenience, the company says.
PS Technology
In an effort to keep PTC crew training costs low, PS Technology has developed a self-contained training tool called "PTC Prime." Knowing that on-the-job-training is both expensive and a scheduling challenge, PTC Prime allows engineers and conductors to train at their convenience – without actual locomotive cab time or dedicated instructor guidance, PS Technology officials said in an email.
"PTC training should be smart, fast and economical," said PS Technology President Seenu Chundru.
To accomplish that, PTC Prime uses a mix of computer simulation, including standard locomotive controls, self-guided computer-based training, record keeping and integration in learning management systems. If desired, the training can be linked into crew scheduling systems that have qualification controls used to present only qualified engineers to dispatchers.
PTC Prime meets the training requirements spelled out by the Federal Railroad Administration for engineer PTC training, according to the company. Completing the full training course takes approximately eight hours.
Another feature: PTC Prime can be rented by the week — a money saver compared with the cost of buying train simulators, according to PS Technology.
What makes PTC Prime unique is that train behaviors are based on a physics engine that recreates actual train responses during use, they said. For railroads that desire customized PTC training that uses their actual routes with PTC requirements, PS Technology can both customize the training tool as well as provide an instructor module that allows for specific scenario building, company officials said.
Wilmore Electronics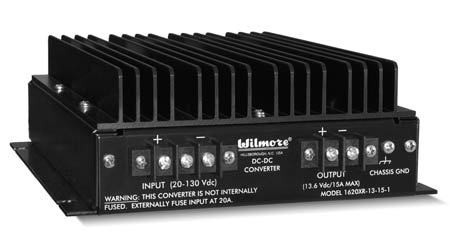 Shown: The Wilmore Electronics Series 1620 XR converter.
Wilmore Electronics Co. Inc.
Wilmore Electronics' Series 1620XR dc-dc converters feature an extended input voltage range (20Vdc to 130Vdc), which enables the units to continuously power onboard electronics in the presence of large variations in the vehicle's battery voltage, including locomotive cranking events. The converters provide an isolated, regulated and well-filtered dc output voltage to reliably operate PTC-related equipment, voice-data radios and other sensitive electronics from 74-Vdc and 37-Vdc electrical systems on locomotives and other rail vehicles, Wilmore officials said in an email.
Series 1620XR converters are offered in 200-watt and 100-watt output power versions. They feature an input transient protection system, conservative electrical design and rugged mechanical construction. Other features include a wide ambient temperature operating range (-40C to +70C) and electronic protection against overloads, short circuits and output overvoltages.
Models with outputs of 13.6-Vdc and 24-Vdc are available off the shelf. Other versions with output voltages in the range of 5 volts to 28 volts are available upon request. Package choices include a compact flange-mount unit and a PTC/LSI rack compatible enclosure.
Series 1620XR converters are part of Wilmore's family of power conversion equipment used throughout the railroad and transit industries to power a variety of critical electronic loads in mobile and stationary applications, including PTC radios and ancillary equipment on hi-rail vehicles, in wayside bungalows and base stations, and at remote sites.
Wi-Tronix
While not a PTC system provider, Wi-Tronix offers technology that can speed up the process of making vital safety improvements for both freight- and passenger-rail service, company officials said in an email. Wi-Tronix-developed technology addresses the challenges of PTC and offers complementary and alternative safety solutions.
The Violet Edge platform combines edge processing with advanced vision systems that include forward facing and inward facing cameras, microphones, and accelerometers.
In addition, the Wi-Tronix fleet agnostic systems can interface with and gather data from other onboard systems. They use artificial intelligence (AI) and visual intelligence (VI) to utilize the available data to deliver pragmatic solutions across rail organizations. One example of a Wi-Tronix feature that augments PTC is VI detection of track signals.
Other solutions include mile post detection, mobile phone detection, inward-facing camera obstruction, refueling validation with machine learning and microphone validation.
Features on the development roadmap include location detection of signals, track detection that uses AI and VI to determine which track is being used by a rail vehicle on multiple track sections and reporting if a minimum stopping distance is exceeded.
ZTR Control Systems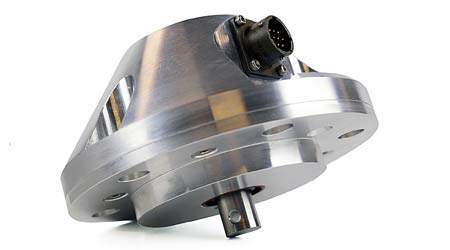 Shown: The ZTR AxleGen axle generator.
ZTR Control Systems
Developed by ZTR Control Systems, the ZTR AxleGen is an advanced, reliable, multi-output axle generator designed to help improve locomotive reliability and meet current PTC requirements and future needs, company officials said in an email.
One of the biggest challenges that railroads can face is the connection of their locomotive electronics — and that's on top of the daily struggle with locomotive reliability, they said.
A dependable axle generator is critical to locomotive operation and PTC compliance because it directly affects fleet availability. Locomotive axle generators can be bulky, costly to replace, have signal issues, possess only one or two outputs and can vary on accuracy, ZTR officials said. Additionally, replacements can be costly with long lead times.
The ZTR AxleGen solves many of those issues, according to the company. With a configurable solution supporting all cab electronics and up to eight outputs, the ZTR AxleGen can connect to multiple onboard systems without adding a second axle generator. Its low-profile design was created to reduce the potential for damage by debris, ensure reliability and provide high accuracy with "zero maintenance," ZTR officials said.
Email comments or questions to julie.sneider@tradepress.com.