Rail News Home
Passenger Rail
4/26/2019
Rail News: Passenger Rail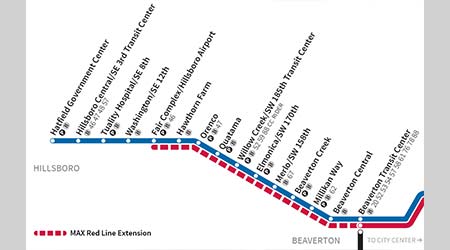 A map shows the planned route (in red) of the Red Line extension.Photo – Source: TriMet
The Tri-County Metropolitan Transportation District of Oregon's (TriMet) board earlier this week adopted two resolutions that are necessary to extend the MAX Red Line to Hillsboro and add a second track to sections of the line near Portland International Airport and the Gateway Transit Center.
The board approved the locally preferred alternative — the final plan agreed upon by the community for presentation to the Federal Transit Administration (FTA) — and authorized TriMet to enter into an intergovernmental agreement with the Port of Portland. The agreement would commit the agency to continue funding project design and working with the FTA on the total cost estimates and project benefits, TriMet officials said in a press release.
The next step is applying for funding from the FTA that could cover half of the $200 million project, with TriMet providing the remainder. When complete in about five years, the project will provide better connections and a more reliable ride systemwide, TriMet officials said. Construction is expected to begin in 2021 or 2022 and conclude about two years later.
The agency plans to extend the line 10 stations to the west between the Fair Complex/Hillsboro Airport Station and Portland's airport. The MAX Blue Line currently is the only light-rail service west of Beaverton Transit Center and trains often are crowded during peak travel times, TriMet officials said.
The expanded service requires improving track and switches, upgrading the signal system and building an operator break facility at the Fair Complex/Hillsboro Airport Station. The agency would add up to eight new light-rail vehicles to accommodate the extended service and upgrade the Ruby Junction maintenance facility in Gresham, where trains are serviced.
 
The MAX Red Line project also will improve systemwide reliability by adding a second track to sections of the line in northeast Portland where currently there's only one track, TriMet officials said. The second track would improve train flow through the Gateway Transit Center and reduce delays for MAX riders.
Contact Progressive Railroading editorial staff.
More News from 4/26/2019