U.S. Reps. James Comer (R-Ky.), Rick Crawford (R-Ark.), Joe Cunningham (D-S.C.) and Tom Emmer (R-Minn.) earlier this month toured rail supply companies' facilities and discussed legislative topics of interest to the rail industry, according to trade associations that hosted the events.
Last week, Comer toured Stella-Jones Corp.'s tie plant in Fulton, Kentucky. The facility's 70 employees process more than 1 million ties annually, according to a press release issued by the National Railroad Construction and Maintenance Association (NRC) and Railway Engineering-Maintenance Suppliers Association (REMSA), which helped organize the event. Stella-Jones is a member of both associations, as well as the Railway Tie Association.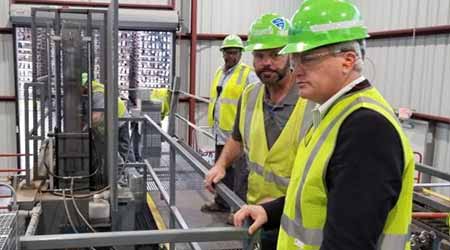 U.S. Rep. Comer toured the Stella-Jones plant in Fulton, Kentucky.
NRC
Comer is a co-sponsor of the Building Rail Access for Customers and the Economy (BRACE) Act (H.R. 510), which calls for making the Section 45G short-line tax credit permanent.
As currently structured, the credit enables regionals and short lines to claim a 50-cent tax credit for each dollar they spend on track rehabilitation and maintenance projects, up to a cap of $3,500 per mile of owned or leased track. The tax credit has been extended numerous times since 2005, but has never been made permanent. It last expired at 2017's end.
In a press release, Comer said he supported the BRACE Act because it would aid the rail industry "in reinvesting in maintenance of their railways and spur further economic development" across his Kentucky district and the nation.
Also last week, Cunningham visited Geismar North America's new headquarters and manufacturing plant in Beaufort, South Carolina. The company — which manufactures and distributes railroad maintenance-of-way equipment — recently opened the 47,000-square-foot facility.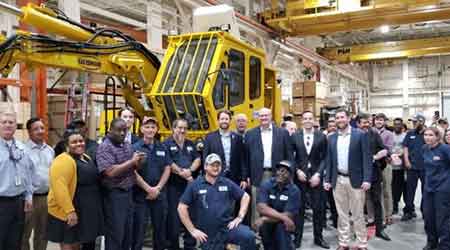 U.S. Rep. Cunningham toured Geismar's plant in Beaufort, South Carolina.
NRC
After a tour, Cunningham discussed several polices, including the importance of international trade and the need for Congress to pass the United States-Mexico-Canada Agreement (USMCA). The NRC highlighted the concern of no Section 232 tariff protections, and noted that the United States should not impose steel and aluminum tariffs on Canada, according to an NRC press release.
Geismar, NRC, REMSA and IPS Cranes hosted Cunningham's visit.
Meanwhile, earlier this week NRC and member Ames Construction hosted Emmer at Ames' headquarters in Burnsville, Minnesota. A family-run earthwork contractor, Ames is a heavy and civil industrial contractor serving customers throughout North America.
Among the topics discussed with Emmer were the BRACE Act, of which Emmer is a co-sponsor, and the USMCA.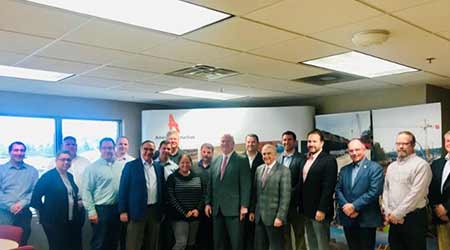 U.S. Rep. Emmer toured Ames' HQ in Burnsville, Minnesota.
NRC
"This Congress, I look forward to supporting proposals that prioritize our state's rail and infrastructure that keep Americans, and their American-made products, moving," said Emmer in a press release.
Also this week, Crawford — ranking member of the House Subcommittee on Railroads, Pipelines and Hazardous Materials — met attendees at the NRC's Railroad Equipment Auction held in Lonoke, Arkansas. After touring the auction site, Crawford participated in a brief discussion covering the BRACE Act, international trade and the need for Congress to ratify the USMCA, NRC officials said in a press release.